Here are a few things happening at We Grow in 2018. Visitors are always welcome at any time, but please give us a call to make sure we are around to show off our hard work. Volunteers are also appreciated pretty much any day of the week except Sundays – just arrange a time that you can come work. And we are always looking for new ideas for farm events. Please don't hesitate to contact us with your suggestions. If you are interested in joining our weekly share program as a weekly volunteer, please review our commonly asked worker share questions.
Onion Mob + Burger Night on the Farm- Friday, May 18, 2018
Fair Weather Event Only – RSVP for communication purposes

In an effort to get a HUGE amount of onion transplants in the ground in a short amount of time, We Grow is hosting an on-farm onion planting mob on Friday, May 18 from 3:00 pm to 5:30 pm. We will have grilled burgers for anyone who comes to lend a hand. Bring a beverage and a chair for relaxation and social hour to follow onion planting. You may bring a side dish to pass if you'd like to add to the meal, but it is not required.
Here is the plan: Spring will come. (Stay-tuned for the weather updates.) Farmers will have the onion beds prepped and ready to plant. Two or three volunteers will be in charge of separating onion seedlings from their soil in the seedling trays and laying onions by their holes. Then 6-8 people will follow and plant the onion seedlings into the ground. The groundworkers will need to have a strong back and knees for it is done at ground level and can be taxing. Please RSVP to Rebecca (farmer@wegrowfoods.com) or text 715 905 0431 to give us a burger count.
Organic Seed Alliance On-Farm Trial Field Day – Thursday, June 28, 2018
Begins at 2 – 4  pm, social hour/pot-luck to follow farm walk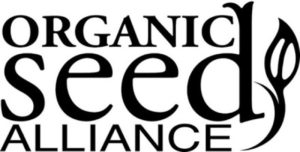 Every one is welcome! If you seek to purchase only USDA organic certified seed, you know how limited your choices are when it comes to varieties. We Grow is working with organic Seed Alliance to take a look at the on-farm trial process. This event will feature a field walk for growers interested in viewing trial varieties of early-season tunnel broccoli. Farmer social hour to follow afternoon field walk. Registration for the event is required.
Farm-to-Table Dinner – Friday, July 13, 2018
Appetizers and drinks begin at 5:00 pm, dinner served at 6:30 pm
This event will be on the farm in again 2018. We are thrilled to get our customers and members on the farm as part of our efforts to establish a real connection between the consumer and the land on which their food is grown. We are also excited to be working with a professional chef (and We Grow customer!) to prepare the menu and serve your exquisite meal! At this point, we are planning for fresh-never-frozen pastured chicken, smoked on site!
We shall dine in the new high tunnel and there is a short window between cool and warm season crops in which we can utilize this space for our farm dinner. Expect to see our own fresh-never-frozen pastured chicken smoked on the menu along with lots of seasonal veggie offerings, perhaps some pasture-raised pork appetizer, local wines and specially crafted brews from Stoney Acres Farm in Athens. Stay tuned for a full-menu posting!
What we do know: attendees will be asked to dress "farm casual" and wear footwear that can get a little dirty. Bring your own wine glass if you'd like some free wine with your meal. We Grow will provide the dinner plate and utensils, food, beverages, seating, tables, and five course, family-style meal served right on the farm. There will be an opportunity to support our farm through a silent auction. No slideshow this year, you'll get to see the real deal first hand. Advance reservations required. CSA members get first opportunity to purchase tickets – watch your newsletter and email for details. Reserve your seat by emailing Rebecca (farmer@wegrowfoods.com) or text 715 905 0431. Limited to 100 seats.
Farmers Union Field Walk – July 19, 2018
5:30 to 8:30 pm, field walk followed by pot-luck
Details for this field walk will be added soon. Stay tuned!
Pumpkin Pick – Sunday, October 7, 2018
9:00 am to 1:00 pm
All CSA shareholders and voucher holders are welcome to come to our farm and pick their fall pumpkins FREE OF CHARGE. Whether you like to have pumpkins for carving, eating or decorating, please come! Spend as much time in the pumpkin patch as you'd like. Get outdoors and enjoy the beautiful fall colors here in the Chequamegon National Forest. Visit with Rebecca, Eric and family and see what the farm looks like late in the season. Enjoy fresh-pressed apple cider and pumpkin-themed food available in the pack shed. Check it out! Number of pumpkins per person based on growing season. Check out your newsletter for details as the season unfolds.