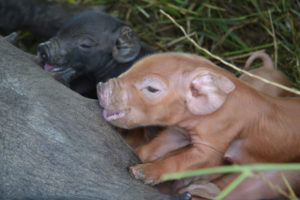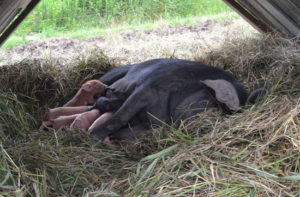 In 2015, several young heritage breed hogs were purchased in the hopes of starting a heritage hog farrowing cycle on our farm to provide an alternative to factory-raised protein for our customers. Two different breeds were trialed and the large black was chosen as half of our breeding line. The tamworth boar was brought on in March 2017 from Heritage Meats in Butternut as the second half of our breeding line. We made our decisions after meeting with other heritage hog farmers and discussing production, temperament, and consumer demand.
Today, we have two large black sows and one tamworth boar providing young feeders for market sales. The large black hog line brings size to the gene pool. This breed grows well on pasture and has been proven on our farm in the conditions we provide. The tamworth bring tall legs and great overall length. Together, these two breeds are an excellent genetic combination that does very well for us and our land, not to mention an unmatched amount of sidepork, the most coveted cut on a hog.
Meat For Sale
Individual cuts of USDA inspected pasture-raised pork are currently available both on the farm and at the Medford Farmers Market. A limited amount of whole and half hogs can be reserved in advance by contacting us. Plan for hogs being processed both in May/June and November/December. Our pork is processed at Geiss Meat Service in Merrill, Wisconsin and can be processed completely nitrate and MSG-free by request.
PASTURE PORK PRICING 2019
Many of our fresh cuts are sold out for the season. We will be having the next batch of hogs processed in December 2019. If you would like to place an order, please contact us or visit us at the Medford farmers market.
PROCESSED CUTS

PRICE PER LB
Bacon, Side SOLD OUT
1 lb per package
$7.50
Bacon, Side – Uncured (Nitrate & MSG Free) SOLD OUT
1 lb per package
$8.75
Bacon, Jowl SOLD OUT
1 lb per package
$7.50
Bacon, Jowl – Uncured (Nitrate & MSG Free) SOLD OUT
1 lb per package
$8.75
Bacon, Shoulder Butt SOLD OUT
1 lb per package
$7.50
Bacon, Shoulder Butt – Uncured (Nitrate & MSG Free) SOLD OUT
1 lb per package
$8.75
Braunsweiger SOLD OUT

$7.25
Maple Breakfast Links
1 lb per package
$7.00
Italian Sausage Bulk SOLD OUT
1 lb per package
$5.00
Pepperoni Sausage
0.25 lb per package
$3.00
Bratwursts SOLD OUT
$6.50
Smoked Ham (Roast)
2 – 4 lbs each
$5.25
Smoked Ham (Roast) – Uncured (Nitrate & MSG Free)
2 – 4 lbs each
$6.25
Smoked Ham Steak
~1 – 1.4 lbs each
$5.75
Smoked Ham Steak  – Uncured (Nitrate & MSG Free)
~1 – 1.4 lbs each
$6.75
Smoked Ham Hocks SOLD OUT
~2 lb per package
$4.50
Smoked Ham Hocks – Uncured (Nitrate & MSG Free)
~2 lb per package
$5.50

UNPROCESSED CUTS

PRICE PER LB
Steak SOLD OUT
2 steaks/pkg, 0.8 – 1.2 lbs total, cut 3/4″ thick
$6.50
Spare Ribs SOLD OUT
1.1 – 1.3 lb per package
$3.50
Baby Back Ribs SOLD OUT
1.2 – 1.4 lb per package
$4.00
Chops SOLD OUT
2 chops/pkg, 0.8 – 1.2 lbs total, cut 3/4″ thick
$5.50
Tenderloin SOLD OUT
~1 lb each per package
$9.00
Loin Roast SOLD OUT
1.5 – 3 lbs each
$5.50
Roast (Front Shoulder)
2 – 3 lbs each
$4.50
Roast (Back Ham)
2 – 3 lbs each
$4.50
Ground Pork  1 lb per package SOLD OUT
$4.75
Lard – unrendered  1 lb or 3 lbs per package

$2.00

Why raise hogs on pasture?
Aside from the obvious bliss that the hogs are in while enjoying their daily rooting and wallowing, raising hogs on pasture is a common sense integration for small farms like We Grow. The hogs gain weight on plush greens and take in all the vitamins and nutrients they need from their omnivorous diet and their natural rooting. Rotational pasturing of hogs provides cultivation and weed control as well as insect and pest reduction. Not to mention, their waste fertilizes as the hogs forage and overturn the soil.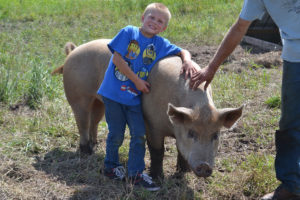 Pigs did not evolve eating grains such as corn or soybeans. Their natural behavior indicates that they prefer digging for their food and foraging. This is particularly true for heritage breeds that have not been selectively bred for confinement like those raised on factory farms. Their natural diet is roots and tubers supplemented by whatever insects, fruits, nuts and small animals they run across and maybe some green forage. On our farm, they clean out areas after we harvest vegetables. They love to dig up brassica roots, trample squash vines, dig up missed turnips or convert sweet corn stubble into rich organic matter.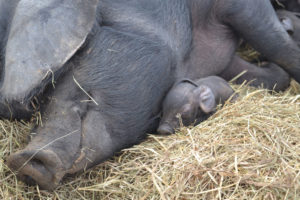 We don't use antibiotics, steroids or hormones. In addition, we don't use pesticides or synthetic fertilizers. We fertilize our pastures with composted manure from our livestock. We seed our pastures from time to time with certified organic non-GMO seed. Supplemental feed is from our own fields as much as possible. When our feed stores run dry, we purchase only non-GMO grains for supplementing.
The biggest reason for us to grow the way we do is that hogs on pasture are happy hogs. They do not seem to enjoy living on concrete or over steel grates or in tiny metal stalls. At We Grow, our hogs do a fair share of the field work while they are busy being hogs.
The benefits of pasture-raised hogs to the consumer
Healthy fat. Pastured pigs deliver better-quality fat, with a healthier omega 6 to omega 3 ratio.
The flavor. Your meat actually tastes like pork with texture and flavor and even darker color.
Happiness. Gain peace of mind knowing your pork was raised in a humane manner.
Antibiotic free. We've never had to buy a single medication for our pigs.
Sustainable. Minimized environmental impact from manure concentration.
If you have made it this far and are considering purchasing pastured pork for the health benefits, check out this article titled "Grass-Fed Pork? Not Really. Still the Difference in Fatty Acid Composition & Micronutrient Content Are Profound & Not Accounted for by Food Databases" that dives into the numbers in greater detail explaining why pastured pork is better for us to consume. The bottom line is, as far as you as an individual are concerned, this article can provide yet another argument for getting your meats (pork or whatever else) from a farm nearby, where you know what you are actually buying.